Products
BACK PRESSURE VALVES AND CONTROL PLUG
BACK PRESSURE VALVES
The B-H Back Pressure Valve is a one-way check valve used to seal tubing pressure to 20,000 psi while the blowout preventers are removed and the Christmas trees is installed. It also permits fluid to be circulated down the tubing and prevents back flow.

The B-H Two-way check Valve is installed in the tubing hanger to allow the Christmas tree to be tested to 15,000 psi. The twoway check valve allows pressure to be equalized above and below the seal, ensuring safe removal from the tubing hanger. The shallow threads on the B-H Back Pressure Valve and B-H Two-way Check valve provide strength, allowing the valves to withstand extremely high pressure without significantly reducing the tubing hanger bore size.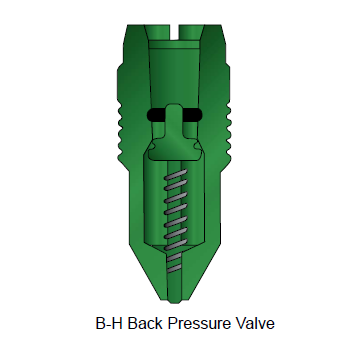 VALVE REMOVAL AND CONTROL PLUGS
The control plug is a check valve which allows a pressure gauge to be installed in the housing or spool outlet companion flange.The check valve contains well pressure when the 1/2" pipe plug is removed.The control plug is ported to eliminate the passage of well fluid around the threads when the pressure gauge taps the well pressure.

The valve removal plug allows the installation and removal of a valve under pressure by means of a lubricator.