Products
TYPE BF-02 TUBING SPOOL, TUBING HANGER
TYPE BF-02 TUBING SPOOL
TYPE BF-02 TUBING HANGER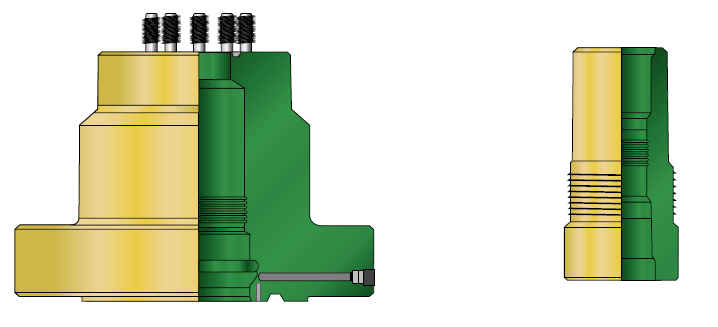 The BF-02 Tubing Spool Assembly is made up of a BF-02 Spool, BF-02 Tubing Hanger,BF-W Hanger, and a TC or TCM Tubing Spool.
The BF-02 Tubing Hanger and Back Pressure Valve are installed on the last tubing joint and the BF-W Hanger is wrapped around the tubing below the BF-02 Hanger.
This assembly is lowered through the blowout preventers until the BF-W lands in the tubing spool. The tubing spool tie- down screws are tightened to ener- gize the BF-W Annulus Seal. Once the BF-W Hanger is installed and the tie-down screws are tight- ened, the tubing string can be ma- nipulated above and below the point of suspension, the blowout preventers can be removed, and the Christmas tree can be installed.
The BF-02 Spool or Christmas tree is screwed directly onto the BF-02 Hanger while the hanger and tubing string remain stationary.