Products
FIG 211 Union
Insulation design of the joint eliminates metal-to-metal contact in the joint. At the same time, the composite anti-wear precision manufacturing of synthetic rubber provides an effective seal.
Recommended for applications where electrolytic corrosion problems exist or where electrostatic isolation of the pipeline section is required.
FIG 211: 2000psi WP, test pressure 3000psi, gray nut, light blue parts.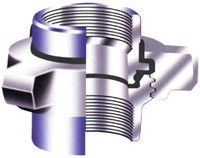 Nominal Pipe Size

Total Length

Nut Radius

Materials

Weight

in

mm

in

mm

in

mm

Nut

Parts

Lbs

Kgs

2

50.8

3-1/2

88.9

3-1/8

79.38

SF

SF

6.25

2.8

3

76.2

4-1/2

114.3

4

101.6

SF

SF

12.50

5.7
Note: SC = Cast Steel, SF = Forged Steel, SA = Alloy Steel